7 Best Men's Dopp Kits and Toiletry bags in 2022
A Dopp kit, or toiletry bag is a small bag that men and women carried in their luggage to store toiletries while traveling. Dopp kits have been around for over a century, and they persist because they are an efficient way to pack your toiletries securely with you as you carry them on board an aircraft. The best Dopp kits are constructed of genuine materials, offer ample storage for your toiletries and personal items and lids fit firmly in place to prevent spillage during transport. We've reviewed a long list of men's toiletry bags and in this article, we will review the best options available in men's styles; we'll also discuss how to choose the right Dopp kit for your needs.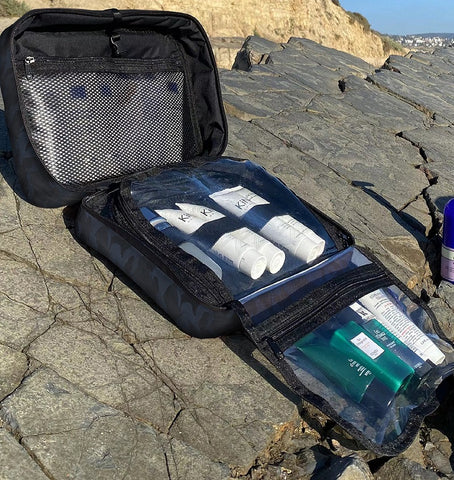 The Purevave hanging toiletry bag is a perfect travel companion for all your traveling needs. The hanging toiletry bag is designed with double zipped opening and three separate compartments to enable store all your essentials in an organized way. Transparent pocket provides a clear overview of the inner contents. Comfortable hand strap makes it easy to carry when move on, inner main pockets with elastic straps hold bottles upright without leakage.
The high-grade smokey matt finished nylon fabric material and Camouflage color used in the making of this men hanging travel toiletry bag makes the whole bag mysterious and elegant.
2. Aer Travel Kit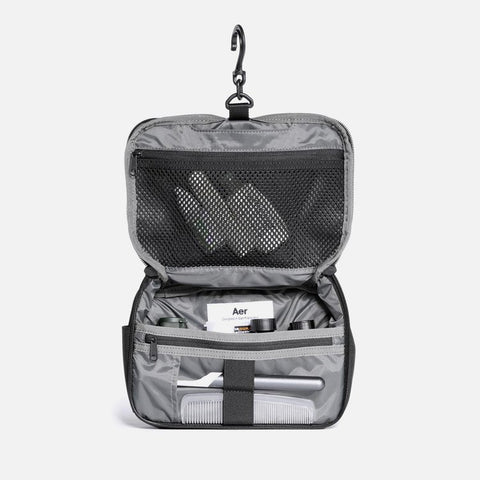 The Aer Travel Kit is made of high-quality ultra-durable, water-resistant nylon material that is durable and easy to clean.  The Aer travel kit has a large capacity and fits all standard-size toiletries. This travel toiletry bag for men has a modern look and is designed to be carried around easily. It features multiple pockets and elastic organizers for secure storage, and a hanging hook that allows you to hang it from your bathroom cabinet or from anywhere else in your home.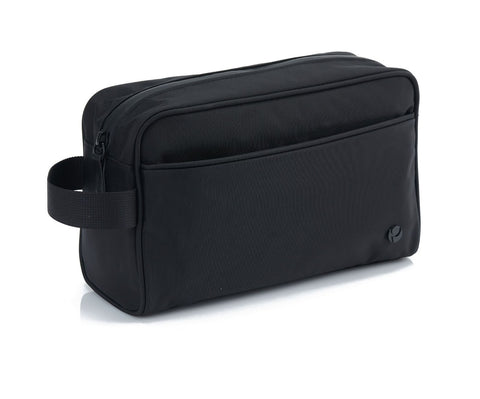 Manufactured by Purevave, the design of this Dopp kit is classic and elegant, made of high-quality water-repellant nylon material.  It has a measurement of 6.5" x 9.5" x 3.75" (LxWxH) with black color. This perfect size makes it suitable for people who has not too many toiletries or the limited space of suitcase or backpack. The Purevave men Dopp Kit has one main compartment and two side interior pockets to provide you with enough room for storing your valuables and toiletries. Besides, side hand strap helps easily carry your toiletry bag when you travel on the move
4. Muji Hanging Case With Detachable Pouch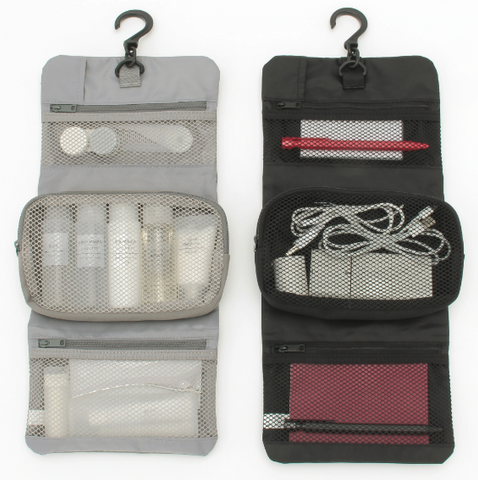 The Muji Hanging Case with Detachable Pouch is a good option for those who love to travel. It can hold more than enough toiletries and personal items for your trip. It is made of high-quality polyester material, which is durable and lightweight. This men toiletry bag is suitable for usage when going on short trips or when you want to take a pool to a vocation.
The toiletry bag has two special zippered type pockets on the inner side that help you store your unique and more valuable items separate from other items in the bag. There is also a removable pouch inside the bag that can be separately used to store other items or attached to the main compartment. The adjustable strap allows you to adjust it as per your need, this is essential as it will give you two kits in a single package.
The toiletry bag also includes a hook with a carabiner to help you hang it anywhere so that it is easily accessible when you need it. Besides, it can be easily folded and tucked into a travel bag or zookeeper bag easily when not in use.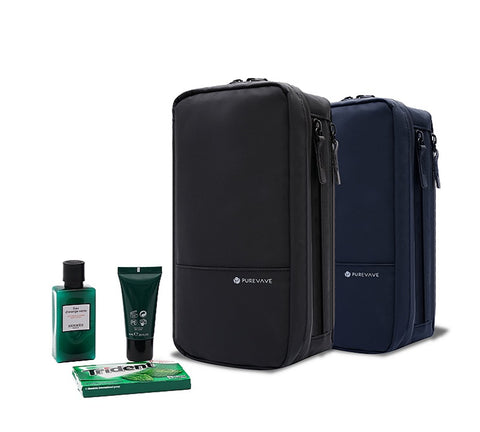 This men toiletry bag is made of high-grade water repellant nylon material and comes with waterproof zippers that will keep all the travel items clean and dry. The minimalist design allows the bag has enough space to hold all your travel toiletries but doesn't make the bag look bulky or take up too much space in your suitcase.
The toiletry bag for men is designed with 3 compartments to keep toiletries neatly, functionally organized and easily accessible, front compartment is with 2 zippered see-through waterproof pockets with elastic band inside to fix travel size TSA toiletries in place without leakage; Middle compartment is for toothpaste and toothbrush specially to keep them hygienic; Back compartment is feasible for your other essentials such as shaving kit, mouthwash and lip balm etc.
Bsides, there is also a small hidden hanging buckle instead of bulky hook, making the bag is easy to hang and more elegant.
6. Patagonia Black Hole Cube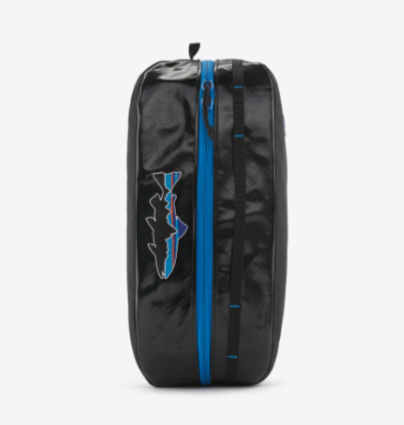 This bag offers you the best solution to your storage problem. It is perfectly designed for outdoor use and provides safer storage for your toiletries. This bag also has an exterior that is practically indestructible. Inside this bag, two unzips lay flat, separated by a unique mesh partition zippered to make them open ideally like a suitcase with hard-shell. In addition, this bag has a top handle that helps you hang it comfortably on a hook or anywhere you want that is safe for hanging.
It also has a chain that you can use to hang it as an option to the handle. It also has a wide opening that will easily help you arrange your toiletries. The high-quality polyester material used to make this bag makes it strong and durable hence will provide you with longer service life. It is easy to wash and will not take much of your time drying. You can use this bag as a wet bag for holding your toiletries or as a traveling Dopp kit.
7.  Goodfellow & Co Olive Diagonal Zip Kit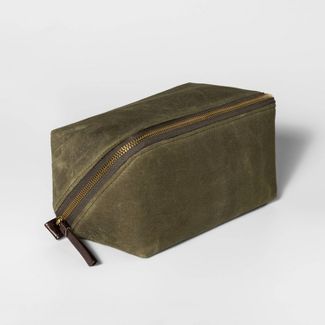 This men toiletry bag has a diagonal opening that will make you easily access the toiletries tossed inside the bag. The bag is also designed with a broader and flat rectangular bottom that enables you to open it wide when you want to retrieve your toiletries or when you want to toss other products into the bag. In addition, made from sturdy fabric with vegan-leather trim material for reliability and refined appeal, this canvas bag is thick and durable and will provide you with longer service life. It is also affordable as compared to other kits on this list. Therefore, apart from storing your toiletries, buying this bag will be economical due to its lower price in the market.
Note that this bag has no hook for hanging; you will have to carry it usually. However, carrying it will not be a big challenge as it is smaller than the other toiletry bags. Due to its small size, you can easily carry it with more fun like football without feeling fatigued.
What makes the best Dopp Kits and Toiletry bags?
There are a lot of Dopp kits and toiletry bags available in the market for different purposes. As we all know that it is better to have more than one toiletry bag or kit so that you can choose the one which is best suited for your purpose from different ones depending on your requirements.

Dopp kits/Toiletry bags generally come in different shapes and sizes with many pockets and compartments depending on the quantity of stuff you have to pack inside them. There are also some with a see-through exterior coating which allows you to keep your stuff organized as well as gives you security purposes like keeping your valuables covered from sight.
For more details, please kindly refer to our previous article The Things You Should Know Before Choosing A Hanging Toiletry Bag  
Conclusion
When choosing, you must consider all kinds of factors whether the bag suits your purpose or not. If you are a regular traveler and have a lot to pack then a larger and better quality toiletry bag is required. If you travel less and have less stuff then smaller ones can be chosen as well.
But again, it depends upon what you need for your trip. As per our list above, we have listed some of the best toiletry bags in the market which can fulfill all your needs for traveling purposes.