8 Best Women's Toiletry bags in 2022
The best women's toiletry bag should not only be practical but also stylish and functional. It should have plenty of room for all your essentials like makeup, hair care products, and toiletries. The best women's toiletry bag will be made from high-quality material to ensure long-lasting durability. It can come in a variety of sizes and shapes, but should all fit the contents that you need. If you carry sensitive items, it may be a good idea to find a waterproof bag that is easy to clean out and keep sanitary for any shared travel needs.
If you're looking for the perfect bag to take on a weekend away or something to keep with you at work, here are some of the best Women's Toiletry bags that we've found! We looked across the internet to find what a woman would need to bring with her on a day-long trip or the weekend and compiled our list here!
1.
Purevave Origami-Style Toiletry Bag for women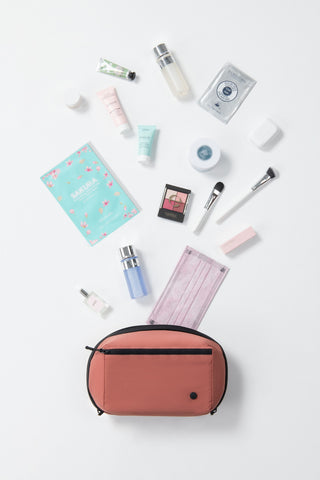 The sturdy, high-quality Purevave's Origami-Style Toiletry Ba is made of waterproof material. It has origami-styled pockets to keep your items organized, which is smaller than some of the other bags, but perfect for a weekend away and all of the essentials that you need when you go! The bag has two different colors; pink and loden green.
The inside of this bag is lined with a waterproof fabric that will help to protect your items from being damaged or smelly. It has a strong and long-lasting fabric belt, which allows you to hang the bag very easily. You won't have to worry about your toiletry bag being damaged or dirty with this option!
2. Bagsmart Toiletry Bag for women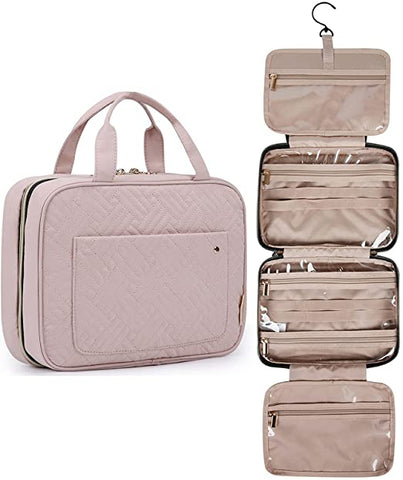 This bag offers ample storage space, being able to hold up to six toiletry items and eleven cosmetics. The Bagsmart Toiletry Bag Travel Bag can keep all of a woman's items organized, allowing them to be easily accessed whenever needed. There are also plenty of pockets where small things can be tucked away and out of sight until they are needed, allowing for easy organization. This versatile bag comes in 5 different colors that include black, blue, pink, gray and yellow.
The bag has transparent sides, allowing the user to see all of their items easily, with an interior lining of fabric that will make sure these items aren't easily damaged or smelly. There is also a zip-close pocket at the back of the bag which will allow for easy access to any essentials. The perfect toiletry bag to use when you're on a day trip and need a few extra things to take with you - perfect for an overnight trip!
3. Boacay Premium Hanging Travel Toiletry Bag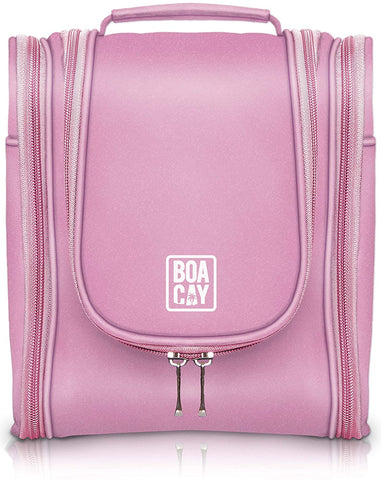 The Boracay Premium Hanging Travel Toiletry Bag is designed to be simple yet stylish, and comes in manyt different shades of black so you can find the perfect one for you! It has a metal zip which is responsible for easy closure. There is a metal hook attached to the top of the bag, making it easy to hang and keep organized. Any toiletry bag that is compact enough to be thrown into a suitcase or backpack will make life easier for women on the go. If you want an inexpensive option for a reliable, sturdy bag, this may be the one for you!
4. Purevave Hanging Large capacity Toiletry bag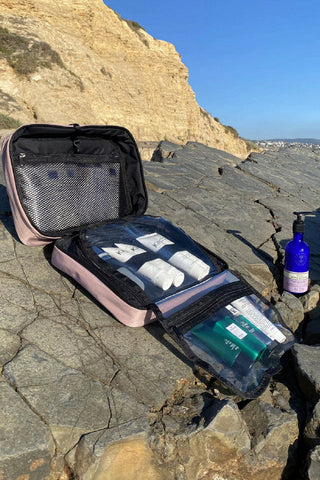 The Purevave Hanging Large capacity Toiletry bag is designed for those who are constantly on the go and will make life easier for women who like to travel with a few essentials.  
The Hanging Travel Toiletry Bag is made from water-resistant material and a waterproof zipper, which means that your stuff will stay safe while you're traveling. The 3 dividend compartments -1 mesh pocket and 2 transparent TPU pockets are a great solution to organize your travel needs while staying compact.  
This toiletry bag is perfect to use when you're going on a long journey such as traveling across the country or even internationally. It has a hand strap that can be used to carry the bag around and keeps it close at hand during travel.
5. Cuyana Leather Travel Toiletry bag for women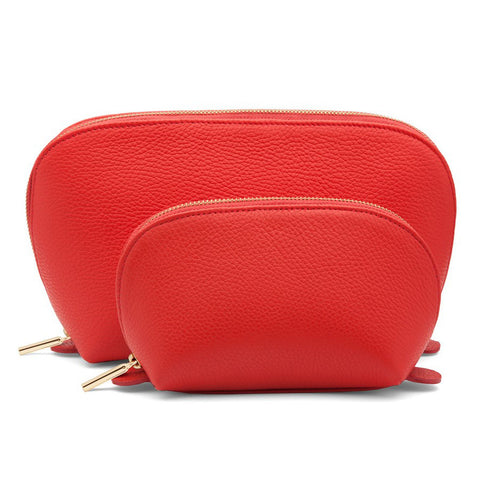 This travel toiletry case set is made of leather, and has a feminine curved shape iconic to Cuyana. It's beautiful and practical.
This Travel Case comes in a set where the larger one measures H 7 in. x W 12 in. x D 3.5 in. and the small one measures H 5 in. x W 8 in. x H 2.5 in. The larger case can stow your travel-sized toiletries, and the small size can be used to store makeup, jewelry or other small accessories.
Besides, it is very easy to take care of this Case Set and you can wipe clean with a damp cloth. 
6. Mossio women's Hanging Toiletry Bag

The Mossio hanging toiletry bag is an easy way to keep everything organized, especially comes with a hook that allows you to hang it from anywhere including on a shower rail or towel rack. It has a good ventilation system so it doesn't become damp or moldy while you travel, and the waterproof inner lining will ensure that your items remain clean. The synthetic fabric bag will hold up to pressure and wear and tear.
It has plenty of room so it will easily fit your shampoo and conditioner bottles, body wash, deodorant, and other essentials. Anything that you want within reach can be placed inside of this bag, whether you're in the shower or at home. The Mossio hanging toiletry bag is ideal for traveling with as well - simply roll up the bag and tuck it into your suitcase where it will take up no room at all!
7. Wandf's Toiletry Bag Small Nylon Dopp Kit for women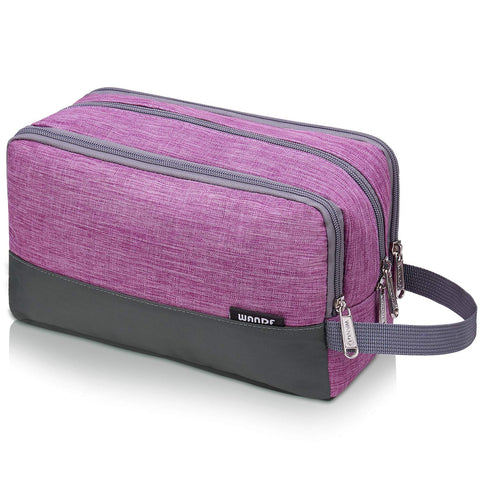 This toiletry bag is perfect for use with your Dopp kit, as it fits well inside of the small bags and will keep all of your things organized and in one place. The Wandf's Toiletry Bag Small Nylon Dopp Kit also comes with a hand strap so you can easily carry it from place to place. It has three compartments - one big compartment and two small ones, which is enough space for any woman to pack up their essentials.
It is made from water-resistant, durable, and lightweight nylon which means it won't damage easily will be easy to throw into a suitcase or backpack, and keep everything organized. The bag can be used for a variety of reasons, whether you're traveling on a plane, car, or boat. If you need an affordable option for one of the best toiletry bags for women on the go, this may be your best bet!
8. Bosidu Hanging Travel Toiletry Bag
Conclusion
Women's Toiletry Bags are made from a variety of materials, leather, nylon, polyester, canvas, and so on. Different materials have different advantages and disadvantages. Nylon bags are lightweight and durable, Leather bags are elegant and luxurious, but need to be taken careful of.
The best toiletry bag for women is going to differ according to your needs - especially when it comes to travel. Some bags come with a hanging hook while others come with handles. Some of them can be folded into different shapes and sizes so they take up less space in your luggage, while others have pockets that fit everything you need for your next trip.
Whether you're looking for the best toiletry bag for women or one that you can use as a Dopp kit, there are plenty of options out there. You just need to take a look at each one and see which ones will work best for you!