The Ultimate List of Must-Have Essentials in Your Makeup Bag
When you're putting together your makeup pouch, it's easy to get caught up in the excitement of experimentation and end up overcompensating. For a newbie, that might mean going too heavy on the eye shadow or lipstick. But for an old pro like you, it means worrying whether you have enough essentials to last through a day at work and a night out afterward. You need to remember that everyone can have that moment where they forget their makeup bag and are left scrambling for anything to put on their face before leaving the house. The trick is to pack things with multiple uses so that even if your mascara has just run dry as you leave the house, you'll still be able to salvage your look without having to stop back home first. Here are some tremendous must-have essentials for your makeup bag no matter what your day or evening holds.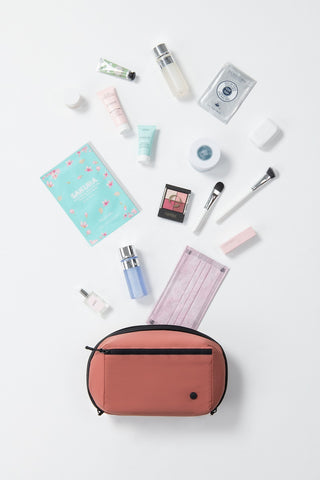 Foundation
It may seem like an obvious choice, but the number one thing you should always keep in your makeup bag is foundation. This can be used for several different purposes: to even out your skin tone, cover blemishes, and even act as an eyeshadow base. If you want to go heavy on the eye makeup and switch between different looks during the week, you can use a small dollop of your foundation on a makeup sponge or clean fingers to prime your lids and give you a nice, even canvas to work with. If you don't have time to hide your blemishes with a full face of makeup, a quick dab of foundation can go a long way towards making you feel more confident and ready to tackle your day. This will also save you time in the morning since you won't have to spend 15 minutes concealing every blemish. It can start to break down and cause more harm than good if you don't keep an eye on it.
Concealer
You'll probably be surprised at just how versatile this makeup product can be. Use it to cover up your dark circles, blemishes, and even redness. You can also use it to even out the rest of your face and create a nice, even canvas for the rest of your makeup. You can also use it to contour your face in certain areas. For example, if you want to create a cheekbone highlight, draw a line from your ear down towards the side of your mouth and then apply the concealer. If you have light-coloured hair and want to avoid a harsh contrast in photos, you can use a light dusting of concealer on your temples and the back of your head.

Eyeshadow
Eyeshadow is the all-in-one staple that can tackle every aspect of your face. Contouring, highlighting, and even creating smokey looks can be achieved with a small amount of eyeshadow. If you're looking to create some definition in your face but don't have a lot of time, a light contour can be achieved with a small amount of brown eyeshadow applied to the creases of your face. You can also use it to create a smokey eye. Find the shade that matches the colour of your eyes and apply it to the crease of your eyelid. If you're going for a dramatic look, you can use a small amount of eyeshadow to create a pop of colour on your cheekbones.

Mascara
Mascara is the one product that, when applied correctly and generously, can instantly turn any look from drab to fab - no matter how much you've rushed your morning routine and how little time you have to spare. Mascara can be used to enhance your natural eyelashes or create a dramatic, voluminous look. If you have bushy lashes, you can coat them with mascara to give them a neater, more sophisticated look. Mascara is also a great product to use to create a subtle smokey eye look. Coat the lashes on your upper and lower lids, and then apply a small amount to your lower lashes. This will visually pull your eyes together and create a smouldering look. Because mascara is a makeup item that's best used quickly, you should make sure to have a back-up ready to go at all times.

Lip colour
Lip colour can be used in a multitude of ways. You can use it to add colour and definition to your lips, or you can use a small amount on your eyelids to give you that "I've been kissed" look. If you want to use a bold lip colour but are worried about looking too over the top, you can use a small amount of lip colour on the corners of your eyes to create an ombre effect and draw attention to your lips. If you want to take a dramatic eye look down a notch, you can also use lip colour as a cheek blush.

Bronzer
There isn't a woman alive who doesn't benefit from a light dusting of bronzer. You can use it to contour your cheeks, create some visual definition on your face, and even out your skin tone. If you're feeling particularly rushed and you want to appear more rested, apply bronzer to your temples and the sides of your face. This will create an illusion of a more well-rested look.

Lipstick
If you're in a rush or you just want a minimalistic look, lipstick is a great product to throw in your makeup bag. You can create a bold lip with just a little lipstick and a few swipes on your lips. If you want to make your eyes pop, you can apply a small amount of lipstick to your eyelids. This creates a bold look that is sure to turn heads. If you want to conceal under-eye wrinkles, you can also use lipstick. Just trace a small amount along the under-eye area, and then gently blend it out with a cotton swab. Choose a colour that makes you feel confident and sexy. Don't go for a colour that you feel you have to wear because someone else likes it; go for one that you like. Keep in mind that lipstick can be messy if you're eating and drinking and it might stain your clothes. If you're going out for the night, keep the lipstick for the evening hours only.

Eyebrows
If you're in a rush or you just want to keep things simple, you can fill in your brows with a small amount of eyebrow pencil. This will make you look more put together and ready for anything. If you have really sparse brows and are looking to fill them out a bit, you can also use a small amount of eyeliner pencil on your brows. This will give them a nice, natural look. That's why keeping a brow pencil on hand is important so you can easily fill in and shape your brows. Because you'll only need to use a small amount every time, a brow pencil will last for quite a long time, and it's worth it.

Blush
Blush is another one of those products that can be used in so many different ways. You can use it to contour your cheeks and make them look more sculpted, or you can use a small amount to give your cheeks a nice, rosy glow. Blush can also be used to hide under-eye wrinkles when you're in a rush. Just draw a small amount under each eye, and you'll look more put together in seconds. Because blush has a tendency to fly off your face if you don't clean it off regularly, it's important to make sure you clean it regularly or keep an extra tube of blush in your makeup bag.

Eyeliner
Eyeliner is one product that, when applied properly and generously, can add drama to even the most minimalistic look. You can use it to accentuate your eyes and make them pop. If you want to make your eyes look bigger and brighter, use a small amount of eyeliner along the top of your lids. This creates a nice, bright effect. You can also create a bold eye look with eyeliner. Using a thicker line and applying it along your waterline will give you a dramatic and smouldering look that is sure to turn heads. That's why it's important to find an eyeliner with a shade that works with your other makeup items. Because eyeliner has a tendency to dry out quickly if you don't use it often, it's best to keep an extra tube in your makeup bag at all times.

When you're packing for your next trip, don't forget to pack your makeup bag. To really make sure you have everything you need, create a checklist. This will make sure you don't forget anything and that you have spares just in case! Because makeup can be expensive, many makeup artists recommend rotating the products you use on a regular basis. By keeping a regular schedule for when you rotate your makeup, you can make sure it lasts as long as possible.