10 Best travel large toiletry bag in 2022
Whether you're a regular traveler or planning a short weekend getaway, a stylish toiletry bag is important to keep your beauty products well organized and accessible. Imagine having to pull out all your clothes just to get a toothpaste at the bottom of the bag. No one wants that. All you need is to have a functional toiletry bag that will keep your products secure and easy to access. In this article, we have discussed the top 10 Best travel large toiletry bags in 2022
This hanging large capacity toiletry bag has 3 dividend compartments -1 mesh pocket and 2 transparent TPU pockets and is a great solution to organize your travel needs while staying compact.
It's made from Water-repellent nylon fabric materials and waterproof zipper to keep all inner items clean and dry. The inner main pockets feature elastic straps to fix travel size TSA toiletries in place without leakage. Besides, this large toiletry bag is well padded to keep all your gears well protected and to ensure that the bag remains in great shape.  
Pros
Has elastic straps that hold toiletries tight

Water-resistant material and waterproof zipper

Comfortable hand strap

 
Cons
The shape is a little big for the people who no need so many toiletries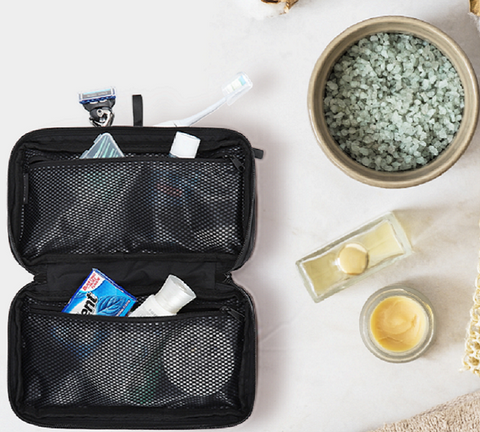 This toiletry bag is made of high-grade water repellant nylon material and comes with waterproof zippers that will keep all the travel items clean and dry. The minimalist design allows the bag has enough space to hold all your travel toiletries but doesn't make the bag look bulky or take up too much space in your suitcase.
The bag is designed with 3 compartments to keep your toiletries neatly, functionally organized and easily accessible, front compartment is with 2 zippered see-through waterproof pockets with elastic band inside to fix travel size TSA toiletries in place without leakage; Middle compartment is for toothpaste and toothbrush specially to keep them hygienic; Back compartment is feasible for your other essentials such as shaving kit, mouthwash and lip balm etc.
Bsides, there is also a small hidden hanging buckle instead of bulky hook, making the bag is easy to hang and more elegant.
Pros
Has minimalist design with style of business

Has Elastic bands to keep toiletries tight

Water-resistant material and waterproof zipper

Has small portable hanging buckle

Cons
Seems more suitable for men
3. IQTRAVELS Hanging Toiletry Bag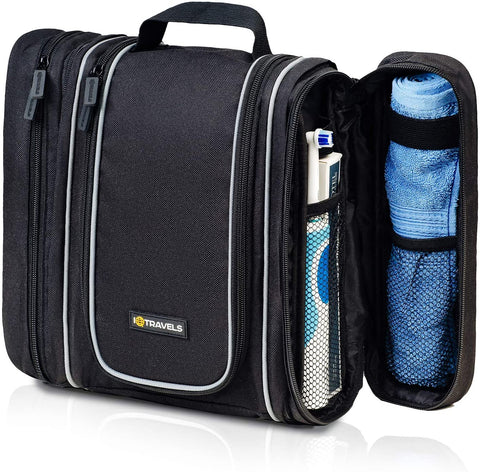 Made of lightweight and water-resistant polyester material, IQTRAVELS Hanging Toiletry Bag makes your trip easier. It is a versatile toiletry bag that is perfect to pack everything that you require, whether you are away on a trip or you're out for the day. You can use it to carry all your makeup kits, personal hygiene, or cosmetic toiletries.
This toiletry bag opens up to an inner hanging hook that helps to keep your countertops free from cluttering. And the inner storage compartments, tie-down bands, pockets, and pouches can make sure all your items placed properly and neatly.
The most noteworthy is the zippers on each side of the center "console," the whole bag can be taken apart and customized for a short vs. long trip.
Pros
Removable compartments

Water resistant

Comes with hanging hook
Cons
Will take up more suitcase space

No special compartment to put wet things
4. Mossio Hanging Toiletry Bag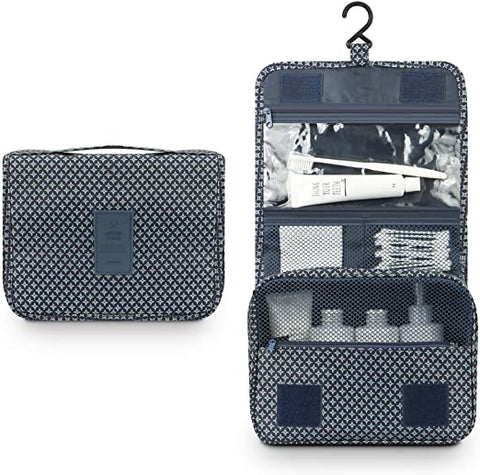 If you want to travel in style, Mossio's hanging toiletry bag is exactly what you need. It is high quality and durable bag that is made of ventilating mesh cloth and water-resistant polyester fabric. Ideally, this large toiletry bag measures 9.45 inches x 7.48 inches x 3.74 inches making it large enough to put your toothbrush, shampoo, make-up, toothpaste, etc., all in one place. The stitching is reinforced and well sewn at all stress points.
This hanging toiletry organizer has 3 interior main compartments that keep your cosmetics and toiletries in place. It also has a large zipper pocket that offers extra storage with ease. The pockets have a zipper closure which ensures that all your items are secure from falling or theft.

This sturdy compact, lightweight, and portable hanging toiletry organizer is a great choice for your beach, gym, camping business, or family trip.
Pros
Comes with Hanging hook

Has Deep pockets

Durable zippers
Cons
The exterior stitching can be flimsy
5. Leather Travel Case Set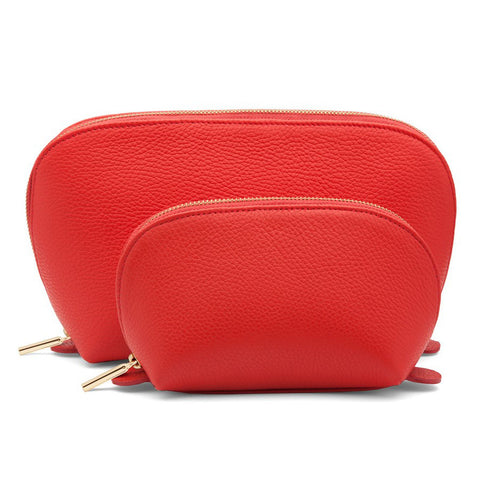 This travel toiletry case set is made of leather, and has a feminine curved shape iconic to Cuyana. It's beautiful and practical.
This Travel Case comes in a set where the larger one measures H 7 in. x W 12 in. x D 3.5 in. and the small one measures H 5 in. x W 8 in. x H 2.5 in. The larger case can stow your travel-sized toiletries, and the small size can be used to store makeup, jewelry or other small accessories.
Besides, it is very easy to take care of this Case Set and you can wipe clean with a damp cloth.
Pros
Made of luxury leather material

Elegant and portable
Cons
Limited internal space, only suitable for travel-sized toiletries

Feminine style and color

Expensive
6. Keokee Clear Toiletry Bag Set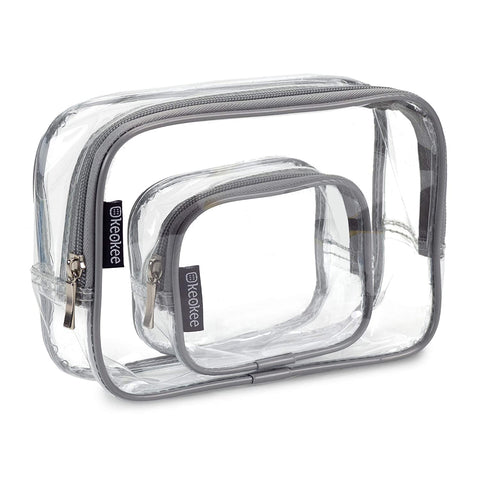 The Keokee's Clear 2-Piece Hanging Travel Toiletry Bag is built with high-quality materials, features a strong clip and an organizer inside to keep things tidy. It's also clear, so you can easily see what's inside without opening it.
The toiletry organizer have sturdy construction with double stitching to enable you to load them up without breaking. The handy small bag is ideal for putting loose items such as keys, jewelry, and more.
This multipurpose bag set is perfect for organizing items around the house and in suitcases. It is large toiletry bag that is spacious enough to pack all your traveling essentials including skin cream toothpaste, perfume, lotions, cosmetics, and more.
Above all, it is an affordable toiletry bag set with a simple, stylish design that will look good in any bathroom.
Pros
Easily view items

Durable zipper

Affordable
Cons
7. Vetelli Classic Dopp Kit Leather Toiletry Bag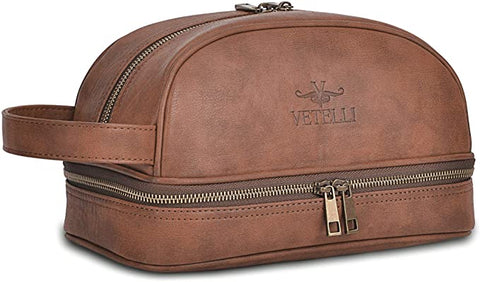 The Vetelli Classic Dopp Kit is one of the favorite toiletry bags for men. It has a sleek look and feels very durable. Ideally, this toiletry organizer has a classic design and will leave a lot of room to put larger items including cologne, shampoo, and deodorant, while the lower compartment is ideal for storing small items.
With its 2 Separate Compartments, you can put your items separately to fit a range of shave and travel accessories. In addition to that, it has two travel bottle mesh pouches and two inner zipped pockets.
Its waterproof lining helps to safeguard your items from spills and leaks while on the go. Lastly, it's made from genuine leather that makes it durable and long-lasting.
Pros
Vegan leather

Nylon lining

Includes travel size bottles
Cons
8. FELT Canvas shave and toiletries bag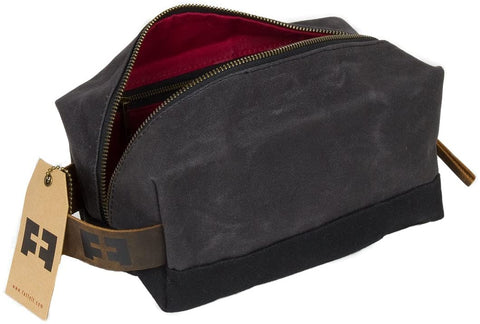 If you are looking for a durable, high-quality bag that has room for all your toiletries and is still compact enough to carry on a plane, then look no further than FAT FELT's canvas shave and toiletries bag. The bag is made of an 8oz soft waxed-canvas interior and a 16oz hard waxed canvas exterior that will stand the test of time.
This high-performing beautiful bag has a finger loop and vegetable-tanned leather handle that gives you confidence when hanging, tugging, and carrying.
This toiletry organizer is versatile and is ideal for both men and women. You can use it as a tool kit for wrenches in your truck or chisels in your shop, as a first aid kit for home or travel, as a handy place to store a bike or ski repair tools. It is also a handsome Dopp kit that will keep your grooming products organized and in place during your travels.
Pros
Interior zippered pocket

Durable, quality materials
Cons
It can't hold its shape when it's not loaded

 No hook
9. Arwey Large Makeup Bag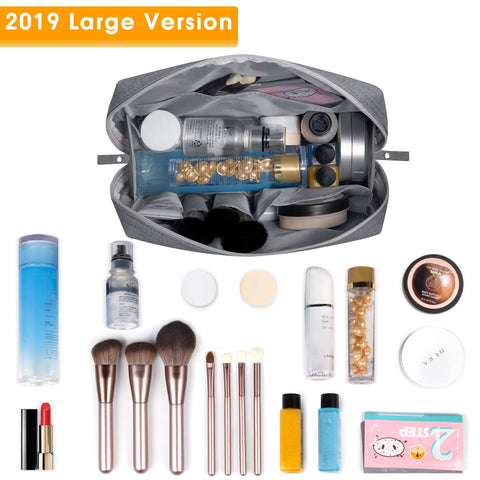 The Narwey Large Makeup Bag is one of our top picks for hanging toiletry bags due to its many interior pockets, protective zippers, and attractive design. It's very useful if you like to keep things organized by separating your skincare products from your makeup items. The bag measures 9 inches x6.7 inches x3.9 inches and it only weighs 4 ounces hence it will not bring any bulkiness.
Ideally, this toiletry organizer is made from thick fabric materials with a nice lining. It also has reliable double zippers and a zip-top closure. Its durable fabric with water-resistant properties makes this bag protect your essentials from spills.
Pros
Interior pockets

Water-resistant material

Multiple Virbant Colors
Cons
Bag can tip over when fully packed
10. Away Toiletry Bag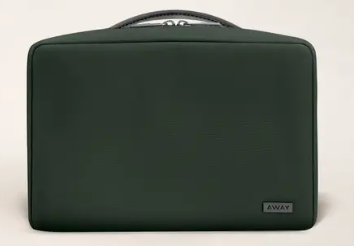 The Small Toiletry Bag is made with excellent design and durable material that makes it stand out from other bags. It has an exterior zip pocket that can keep grab-and-go items such as makeup remover pads and disinfectant wipes.
This bag is made from a water-resistant nylon body and comes with Separate mesh and transparent interior pockets. The overall size of this toiletry bag is 8.3" x 3.15 inches x 5.5 inches and only weighs 6 oz.  
Pros
Clamshell opening for easy packing and access to essentials

Convenient exterior pocket
Cons
No pockets for small items

Expensive
Conclusion
Toiletry bags offer a great way to keep your toiletries neat and organized. The toiletry organizers listed above are long, durable, and most importantly, fit in your backpack. Regardless of which one you choose, make sure that it is large enough to accommodate all of your toiletries and that it is comfortable to carry around.