The best size for travel Sling bag & backpack
In this guide, we will be talking about the different bag sizes and what they can fit so you can find the best bag size for traveling. We're going to start with One Liter Sling to use as a pocket dump and go all the way to 60-liter gear haulers for rugged outdoor adventures. Basically, the best size for a travel backpack largely depends on what kind of travel you're going on and how long you'll be traveling around. Here are the best travel bags for every situation.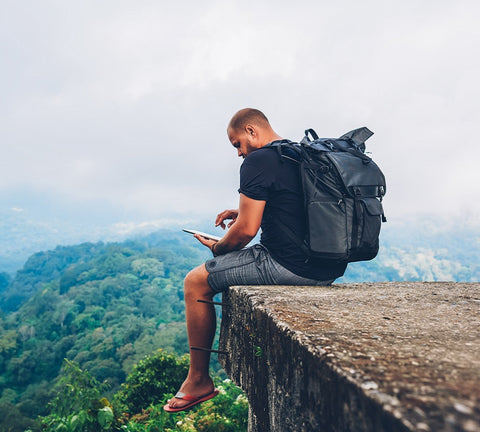 1 Liter Pocket Dump Sling

This size is small enough to wear through the day as you explore, but still big enough to fit everything you'd normally put inside your pockets. That is why it's called a Pocket Dump Sling. This size is handy when you're going through airport checkpoints. Instead of wasting time at the security checkpoint shuffling through all your pockets, you can pack everything in a one-liter sling bag and slide it through the scanner. This bag is also larger than you think, and can fit your phone, keys, travel wallet, passport, boarding pass and headphones. This is the perfect lightweight bag for maximum mobility as you can wear it as a sling or around your waist. Lastly, this bag can be packed into itself for easy storage when not in use.
2.5 Liter Pockets Plus
If you want to go far a bag that's a little bit bigger, but you still want to slay in sling territory, you can opt for something around 2.5 Liters. This size is often referred to as Pockets Plus. It can fit everything you carry in your pockets plus a little bit extra. So, in addition to your phone, wallet, passport and keys, a 2.5-liter sling can also fit small gaming consoles like a Nintendo Switch, snacks, a battery bank and charging cables. You may even be able to squeeze in some wet wipes and a packable rain jacket if it's small enough. Besides getting you through security checkpoints hassle-free, a 2.5-liter bag has enough room for your in-flight essentials. Just wear the sling in front so you can get access to snacks or your Switch without having to dig underneath the seat in front of you to get them. You can also use a hero clip to hang it of the seat in front of you.
9-to-13 Liter Messenger Bag
A Messenger Bag has a capacity between 9 and 13 liters which allows you to bring a tablet, a small laptop, and some tech gear along when you need you need to get some work done on the road. There are also bags that are more of a cross between a Messenger Bag and a Sling Bag. It's good when you don't to lug around a full-on backpack but still have more to carry than a traditional sling can accommodate. A 13-liter Messenger Bag is a good pick for commuters that don't want to take up too much space on trains or buses. They're also convenient if you commute by bike.
To get the most out of a bag around this size, consider how certain features will cater to your use case. An open main container without a ton of organization will be good for holding more items. So will the difference between 9 or 13 liters affect how much you can pack inside? It depends on the bag's level of organization and how you pack it.
15-to-18 Liter Daily Bag
If you're not a fan of slings and would prefer to carry an actual backpack on your travels or work commutes, consider picking up a Daily Bag. For everyday use, it is recommended to go for one that has a capacity of 15 to 18 liters. This is a step up from the 13-liter messenger. The Daily Bag will have enough room for a laptop. So, if you're working remotely and shuffling between co-working spaces with a MacBook in tow, this size may be the right pick for you. Beyond just remote work, a daily bag will be good at holding all the gear you need for daily activities. The smaller profile will fit in whether you're hitting the gym, the coffee shop or hiking trail. One helpful feature in a Daily Bag is the separate compartments or pockets for clothing and tech accessories. While there are larger sizes than 15 liters, a good 15 Liter Day pack can fit everything for the day and maybe even a weekend trip if you pack light. This includes a laptop, tech pouch, water bottle and a change of clothes in addition to essentials like your phone and wallet.
20 Liter Personal Item Backpack
A Personal Item Backpack fits underneath the plane seat in front of you and can be taken on board with most base fare tickets. This means that you won't need to pay extra for a carry-on or worry about a checked bag getting lost. The size restrictions for a personal item bag tend to be based on the dimensions rather than the liter capacity, however it's been found that most bags around 20 liters work on most airlines for their personal item allowance. Just be sure to check the specific rules for the airline you're flying with before you start packing. On top of your essentials and a laptop, a good personal item bag will have space for a packing cube or two so you can fit clothing inside. This makes the 20 Liter Personal Item Backpack most useful for weekend trips, though they can work for longer trips if you can pack minimally and strategically. A 20-liter backpack can also work as a daily bag if you're headed directly to the airport for a weekend trip after work on a Friday.
30 Liter Daypack/Travel Backpack Hybrid
The Daypack Travel Backpack Hybrid can switch seamlessly between everyday use and travel. This bag has around 30 liters of carriage capacity and is known for not being too boxy for its use case. Anything larger will probably be too big for a daily bag while sizing down probably won't be big enough for longer trips. The main feature you should look for in hybrid bags is a way to compress or expand it. This can either be through compression straps, roll tops or compression zippers that you can use to adjust the size, depending on your needs. It's also convenient to use this bag for travel. Take out your packing cubes and gear when you arrive at your accommodation and cinch it down for a daily driver for your adventures. Another great feature of Hybrid bags that you should look out for are external attachment points which allow you to customize your carry. This is useful when you need additional space because you can just clip on additional pouches and accessories to the outside of the bag. A good 30 Liter Hybrid Bag will be able to fit several small or medium packing cubes, a tech pouch, a toiletry kit, a laptop, a tablet, and all of your small items.
40-to-45 Liter Travel Backpack

While 40 liters is typically around the max legal carry-on baggage size, there are also 45 liters if you don't mind checking in your bag. This is the preferred size for one bag travelers that are going on extended trips. 40 Liter packs are recommended for digital nomads who are traveling while working remotely indefinitely. This is good for backpacking through foreign countries for several months or even a few years at a time. You can literally fit your entire life inside a 40-liter travel backpack because they can typically hold several large packing cubes, accessory pouches, a change of clothes, tech gear and even camera gear depending on the bag. At this size, go for a bag that opens clamshell style because they are easier to pack and give you more visibility to see everything inside. These are basically suitcases in backpack form.
50-to-60 Liter Gear Hauler
A gear hauler is for those trips where you want to bring along everything plus the kitchen sink. These are typically in the 50-to-60-liter range but can go up into the hundreds and are best suited for roadtrips where you have more space to work with. When it comes to gear haulers, we should usually take duffel bags although there are some behemoth backpacks out there as well. Roadtrips aren't the only time where you would want to travel with one of these though. Gear Haulers are well suited for those rugged outdoor adventures that require a lot of extra supplies. They're also good for cold weather and winter sports where you need to back heavy boots and thick jackets. Think skiing, snowboarding and camping trips. For example, traveling content creators, photographers and journalists will also find gear haulers helpful when they need to carry around a ton of camera gear or audio gear in addition to their clothing and essentials.