The Benefits of Using a Running Backpack While Traveling
For many of us, travel is the best way to explore new places, learn about different cultures, and see the world. But if you're a travel enthusiast, you know that packing for a trip can be a challenge. You want to bring everything you need, but you also don't want to be weighed down by too much luggage. That's where a running backpack comes in.
What is a Running Backpack?
A running backpack is a small, lightweight backpack that is designed to be worn while running. Most running backpacks are made from breathable materials like mesh or nylon and have reflective stripes or panels to increase visibility. They also have straps that help secure the pack close to your body so that it doesn't bounce around while you run.
Why Do You Need a Running Backpack While Traveling?
If you love to run while on vacation, then a running backpack is a must-have piece of gear. A good running backpack has plenty of compartments and pockets to allow you to carry all of your essentials – like your phone, keys, and wallet – without weighing you down or causing discomfort. And, if you choose a backpack with reflective panels or stripes, it will help keep you safe by making you more visible to drivers and other pedestrians.
In addition to being incredibly functional, running backpacks also offer a number of benefits for travelers. First, they're small and lightweight, and won't take up much space in your luggage. Second, they're easy to pack since they don't have any special requirements (like rolling). And finally, they can be used for more than just running – they're great for hiking, walking around town, and even going to the gym.
In this blog post, we'll share some tips on how to choose the right running backpack for your needs and how to pack it for a trip. We'll also share a recommended favorite running backpacks for travel.
How to Choose the Right Running Backpack for Your Needs
When choosing a running backpack, there are several factors you should consider, including:
The size of the backpack. You'll want to make sure the backpack is large enough to fit all of your essentials, but not so large that it's cumbersome to carry.

The type of material. A running backpack should be made from lightweight and durable material that can withstand wear and tear.

The number of compartments and pockets. A good running backpack will have multiple compartments and pockets to store all of your belongings.

The straps. The straps should be adjustable so that you can customize the fit of the backpack. They should also be comfortable to wear for extended periods of time.

The price. Running backpacks usually can range in price from $50 to $200, so it's important to find one that fits your budget.
The Benefits of Using a Running Backpack While Traveling
There are many benefits of using a running backpack while traveling, including:
You can easily carry it on your back without feeling weighed down.

It has plenty of compartments and pockets for storing all of your belongings.

You can easily access all of your belongings without having to dig through your luggage.

It's great for carrying any extra items you may need while on vacation (e.g., a jacket, snacks, sunscreen, etc.).
How to Pack Your Running Backpack for a Trip
Packing your running backpack for a trip is easy! Just start by adding your essentials – like your phone, wallet, and keys. Then, add any other items you might need – like sunscreen or insect repellent if you're traveling to a sunny destination or snacks and energy gels if you plan on doing some long-distance runs. And finally, make sure everything is securely fastened inside the bag so that nothing falls out while you're on the go.
Tips for Using Your Running Backpack on Vacation
 Here are a few tips for using your running backpack while on vacation:
Wear it while sightseeing! This will free up your hands so you can take pictures or carry souvenirs.

Carry any valuables in the front pocket where you can easily keep an eye on them.

Pack any heavier items closer to the bottom of the backpack so they don't weigh you down.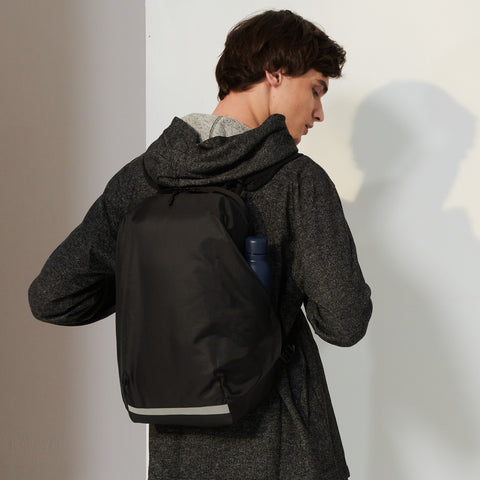 Purevave is a new brand which is specialized in travel bags to ease you're your trip. They launched a lightweight running backpack in 2022, which can be voted one of the best backpack for travel, running, hiking and even daily life. 
This backpack has many different compartments to store your books, laptop, garments, and other important things. You can put your pens or some small things in these pockets which won't fall off once you wear this backpack on your back. What we like most about this product are its 2 hidden zipper pockets which aren't noticeable if not intentionally looked for.
It has both adjustable shoulder and chest straps to tighten the bag onto your body. It has an adjustable shoulder strap and a chest strap to make your pack feel secure. It's great if you need to bring a lot of stuff with you or if you're traveling with this pack.
Conclusion
If you're looking for a versatile and lightweight option for carrying all of your belongings while traveling, then look no further than a running backpack! These packs are perfect for carrying everything from your passport and travel documents to snacks and extra clothing while on vacation. And with multiple compartments and pockets, they're also great for keeping everything organized. So next time you're planning a trip, be sure to add a running backpack to your packing list.