How to Choose a Perfect Makeup Bag
Do you have a million and one lipsticks, eyeshadows, and blushes, but no place to put them? If you're like most women, your makeup collection is constantly expanding, but your storage solution isn't keeping up. A cosmetic bag is a must-have for anyone with a growing cosmetics collection. Just like everything else in the world of beauty, there are a million different options when it comes to makeup bags. With so many options on the market, it can be hard to know where to start and which one is right for you. Don't worry, here are some tips to help you make your decision when shopping for a makeup bag.
In this blog post, we'll cover the different shapes and sizes of makeup bags, what materials are best for makeup bags, features to look for in a makeup bag, price points for different types of makeup bags, and brands that make great makeup bags. By the end of this post, you'll know exactly what type of makeup bag you need.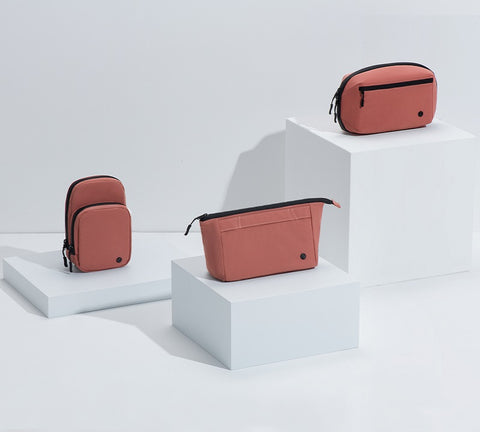 1. Shapes and Sizes of Makeup Bags
The first thing you need to consider when choosing a makeup bag is the shape and size. Makeup bags come in all sorts of shapes and sizes, from small rectangular pouches to large square totes. The shape and size of your cosmetics bag will depend on the amount of makeup you need to carry with you and the type of products you use. For example., if you only wear a few products on a daily basis, a small rectangular pouch will be sufficient. However, if you have a large collection of cosmetics or you frequently travel with your makeup, you'll need a larger bag like a square tote to make everything fits.
2. Materials for Makeup Bags
Next, think about what material you want your makeup bag to be made out of. Makeup bags are typically made from one of three materials: fabric, leather, or vinyl. Fabric bags are the most affordable option and can be found in a variety of colors and patterns. Leather bags are more expensive but they're also more durable and easier to clean and tend to look more sophisticated. Vinyl bags are somewhere in between fabric and leather in terms of both price and durability.
3. Features to Look for in a Makeup Bag
Now it's time to start thinking about features. When you're considering which features to look for in a makeup bag, think about how you plan on using the bag. If you're going to be carrying your makeup bag with you everywhere you go, look for one with a strap or handle so it's easy to carry. If you're going to be storing your makeup bag in a drawer or cabinet, look for one with multiple compartments and dividers so everything stays organized. And If you travel often, then you might want to look for a bag which is lightweight and with a built-in mirror or an attached case for your brushes.
On the other hand, think about the type of products you use. If you primarily use powder products, such as eyeshadow or blush, then a make bag with compartments will be ideal. This will help to keep your products organized and prevent them from becoming Jumbled together. On the other hand, if you mainly use liquid products, such as foundation or concealer, then a make bag with zippered compartments will be a better option. This will protect your products from leakage and spills.
4. Brands That Make Great Makeup Bags
Another important factor is the brand. There are dozens of brands that make great makeup bags but some of our favorites include eBagss (ebagss), Anastasia Beverly Hills (anastasiabeverlyhills), MAC (maccosmetics), Sephora (sephora), Ulta (ulta), and Vera Bradley (verabradley). However, lesser-known brands may also offer high-quality and well designed makeup bags at a lower price point, Purevave is an emerging brand which is focus on travel bags that ease your travel, here you can find the most suitable makeup bag for you, as well as other travel bags, such as toiletry bag, sling bags, backpack and so on.
5. Price Points for Different Types of Makeup Bags
Finally, think about how much you're willing to spend on a makeup bag. Makeup bags range in price from under $10 to over $100. The price of your makeup bag will depend on the material, size, brand, and features you choose. Generally speaking, fabric bags are the most affordable option while leather bags are the most expensive option. Of course, there are plenty of high-quality fabric and vinyl bags that fall on the higher end of the price spectrum. Whether you choose a cheap or expensive makeup bag, be sure to pick one that meets your needs and fits your budget.
Conclusion:
Now that you know all about the different types of makeup bags available on the market today, it's time to choose the perfect one for you. Consider the shape and size, material, features, price point, and brand before making your decision. And don't forget to think about how you plan on using your makeup bag—that will help narrow down your options as well. Once you've considered all these elements, finding the right makeup bag will be a breeze.